So. July is a thing that's happening now. WHERE IS THIS YEAR GOING OH MY GOD.
Books read:
35. I need to stop. This is getting utterly ridiculous.
New vs rereads:
21 new books versus 14 rereads. So much for keeping things balanced........
Most read genre:
CONTEMPORARY. Good Lord, I read a lot of contemporary books in June.
Favourite book:
Fairwil
by Alysia Gray Painter, which I suspect comes as no surprise to anybody who's been around here for any length of time. But really, there was a pretty narrow margin between Fairwil and a few other books this month. I read SIX five star books in June. SIX!!! That's unheard of.
Least favourite book:
Buffy the Vampire Slayer S8 V7 - Twilight
by Brad Meltzer. It was a trainwreck and a half.
Favourite cover:
Probably
The Wrath and the Dawn
by Renee Ahdieh. I love the depth to it.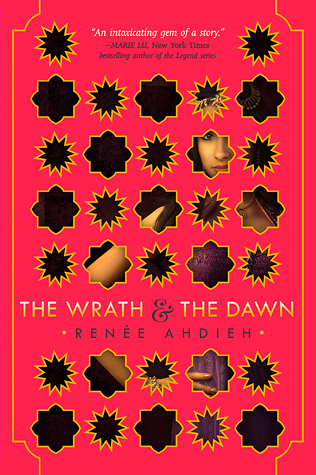 Diverse Books Project:
It's going pretty well at the moment! Although I do really need to branch out and read more books with male protagonists...
In June, I ended up reading 3 graphic novels, 3 non-fiction books, and 29 novels. There are links to all my Goodreads reviews below!

5 stars:
None of the Above
|
Fairwil
|
All the Rage
|
The Wrath and the Dawn
|
Ms Marvel Vol 2: Generation Why
|
Vanity Fair
4 stars:
Hawkeye Vol 2: Little Hits
|
Love is the Higher Law
|
Open Road Summer
|
The Start of Me and You
|
People of the Book
|
Prisoner of Night and Fog
|
The Sacred Lies of Minnow Bly
|
The Infinite Sea
3.75 stars:
Scarlet
3.5 stars:
Thud
|
The Shadow Cabinet
|
The Boy's Own Manual to Being a Proper Jew
|
Rethinking Normal: A Memoir in Transition
|
The Full Montezuma: Around Central America and the Caribbean With the Girl Next Door
|
Under the Black Flag: The Romance and the Reality of Life Among the Pirates
3 stars:
The Mummy Case
|
Spell Bound
|
The Disreputable History of Frankie Landau-Banks
|
Calypso Summer
|
Blindsided
|
The Penguin Who Knew Too Much
2.5 stars:
Strange and Ever After
|
Life After Theft
|
Reliquary
|
Full Speed
|
Maybe Someday
|
Definitely Dead
2 stars:
The Toyminator
1 star:
Buffy the Vampire Slayer Season 8: Twilight
What did you read in June?
K xx