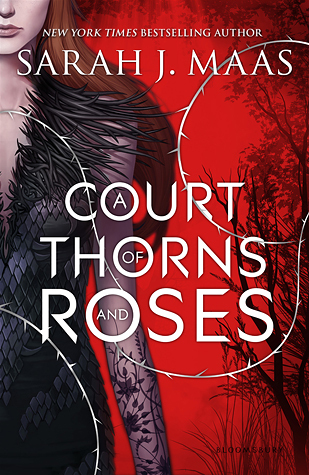 A Court of Thorns and Roses
Sarah J. Maas
2015
Bloomsbury Australia

3 stars
This book has been hype central on the book blogosphere since it was first announced last year, so I was ridiculously excited when I got an unsolicited ARC from Bloomsbury back in February. Unfortunately, I have a confession to make, you guys: it really didn't live up to the hype for me.
Don't get me wrong, I still enjoyed it a lot. And I feel like my attitude towards it was more about me than it was about the book?? But it just... It wasn't great. And it wasn't what I was expecting from a Sarah J. Maas book.
This book tells the story of Feyre. She's strong and independent and quite a lot like Celaena Sardothian but with a family, you know? While out hunting for food one day, Feyre (pronounced Fay-ruh, apparently) shoots a wolf. Except it turns out that the wolf wasn't really a wolf so much as it was a faerie in disguise. All of that stuff was pretty great. It was fast paced, and full of interesting characters, and I thoroughly enjoyed it.
But then things changed. As a result of killing the faerie, Feyre ends up getting kidnapped by the Fae and taken over the wall to their kingdom. So...she's a prisoner. But they feed her really well and give her pretty clothes to wear and are generally really nice to her??
All the people in the land she's taken to have fancy masks stuck to their faces, but that doesn't even remotely disguise how totally hot the guys are??? The story took a massive turn for the romantic, and while I liked the individual characters, I had zero fucks to give about the romantic subplot. It wasn't swoony, it wasn't cute, it wasn't hot. It was just...there, being slow paced and not very interesting. I know, this totally makes me a terrible fangirl. But it just wasn't my thing.
Somewhere along the way, Feyre finds herself facing a series of challenges. That, for me, was where the story finally picked up again. But that was about two thirds of the way through the book, so it was almost too little, too late. The last third of the book was action central, and given that I'd finally gotten into the story for real, the ending seemed all too sudden.
Look, it's probably not entirely surprising that this wasn't a huge success with me. While I adore Sarah J. Maas' writing and her characters as a general rule, the Fae are basically my least favourite paranormal creature to read about. I bailed on the Sookie Stackhouse series when fairies turned up. I read a couple of Laurell K. Hamilton's Merry Gentry books, and they were kind of squicky. Same goes for Karen Marie Moning. So when I dove into this and found Fae waiting for me, I may have cried a little inside.
It's still got great characters and fabulous action scenes and I'll probably read the other books in the trilogy when they come out. But frankly? I'm a little afraid that it's going to turn out exactly like a Nora Roberts trilogy, where there's an overarching story but each individual book focuses on one of three sisters/cousins/best friends falling in love with a guy who's somehow involved in the overarching story. They fall into bed together more or less instantly, and get engaged after dating for like two weeks.
So yeah. I feel terrible saying it. But Fae-centric + heavy on the romance = not really the book for me.
Have you read it? What did you think??
K xx
Disclaimer: I received an unsolicited ARC from the publisher. A Court of Thorns and Roses is available now.