Another Tuesday already? Must be time to talk about books and link up with the
Broke and the Bookish
!
It seems very appropriate to be discussing the books we want to visit from our childhoods this week, seeing as last month I fiiiiiiiiinally got around to sorting out the cupboard where a bunch of books that I haven't read in approximately a million years are stored. And now that there's some actual order in there and I can actually FIND things, there's a reasonable chance that I may actually get around to rereading some of the books on this list one of these days!
I've seen a lot of Babysitter's Club, Sweet Valley High, and Goosebumps on lists today. My list will not contain any of those for one simple reason:
Snark Squad
. Those books are so much worse than you remember, guys...
Anyway, without further ado, let's get on with my list!
1. Pagan's Crusade by Catherine Jinks
I was OBSESSED with these books in my early years of high school. Totally, totally obsessed. But I haven't read any of the original trilogy since about 1999. I have the second book - Pagan in Exile - on my shelf, so one of these days I really should remember to pilfer Pagan's Crusade from work and reread the entire series. (But preferably not with this totally nonsensical cover...)
2. When Hitler Stole Pink Rabbit by Judith Kerr
I LOVED this book when I was about 10 or 11. It was probably my first introduction to World War II, and I really need to revisit it one of these days. Especially seeing as I have the whole series in the aforementioned cupboard.
3. Playing Beatie Bow by Ruth Park
This one's an Australian classic, and I read it several times as a kid. But apparently I've totally forgotten everything about the plot over the past 20 years because all I remember is that it possibly involves time travel?? Or ghosts?? Or both?????? Clearly, it's time to revisit it.
4. Redwall by Brian Jacques
Oh my God, I loved these books as a kid. I had all the books that were published up to about 1997, and I read them all multiple times. I reread Mossflower a couple of years ago for a uni assignment, and failed to see what it was that I loved about the books so much. But Redwall was always my favourite of the series, so maybe I need to revisit it and see if I can discover the magic again...
5. The Boggart by Susan Cooper
This book is sadly dated now - I read it about 5 years ago, and laughed hysterically over a computer with a full colour screen and 250MB hard drive costing $10,000 - but it was such a fabulous story that I want to reread it again.
6. Matilda by Roald Dahl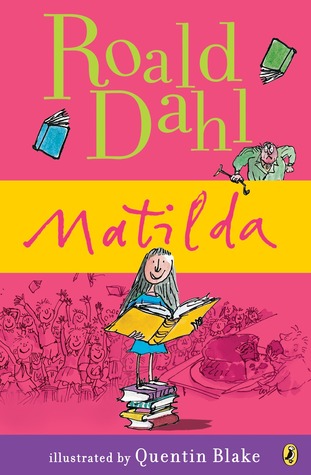 It's been YEARS since I read this, but I remember absolutely loving it as a kid. Having introduced Little Miss A to Roald Dahl a few weeks ago, the idea of rereading this one has been lingering in the back of my mind ever since.
7. A Tale of Two Cities by Charles Dickens
I read this when I was ten. Yeah. I was kind of a weird kid... I remember almost nothing about it, and I'm pretty sure 10 Year Old Kirsti had literally no idea what was happening for most of the story so it's DEFINITELY time to pick it up and read it again.
8. Little House on the Prairie by Laura Ingalls Wilder
I have a box set of the full series in my cupboard that I got for my sixth or seventh birthday. And they're falling apart because I read them so much. I'm not sure I'd love them on reread, but I feel like I should give them the chance.
9. The Secret Garden by Frances Hodgson Burnett
This was the first book that we read for English in year 7, and I remember really enjoying it despite the odd character throwing a screaming fit over literally nothing. I should probably revisit it one of these days.
10. The Cazalet Chronicles by Elizabeth Jane Howard
YA didn't really exist when I was a teenager, so I spent most of my teen years reading crime and historical fiction. This series - a Downton Abbey sort of a thing set during World War II - was one of the ones that I read more than once. I haven't read them in years, though I DID see the BBC series that was made in 2001. Just don't mention how awful the covers are...
What's on your list this week?
K xx