It's been a while since I've shared all my thoughts on a crappy 90s TV show with you guys, and I figured it was about time I rectified the situation. I've now FINISHED watching Charmed, so I really do need to get a wriggle on with writing these posts before I actually forget everything that I was talking about... I have no idea when I started watching season 4, but I'm guessing it was sometime in January based on the fact that I started season 5 in mid-February. So...it's been a while.
ANYWAY. Here are All The Thoughts about Charmed, season 4.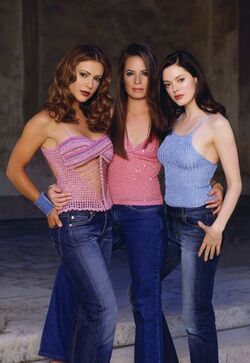 Holy mackerel, what are these shirts?!
Also, source.
I hate that Prue's death had to happen completely off camera because Shannen Doherty got fired. And as much as I think it's awesome that she refused to let them use her image, the ways they get around that over the remaining seasons are RIDICULOUS.
Paige!!
Ahahaha, Paige's magical boob job. That's what happens when you use magic for personal gain, girl!
Oh my God, Daniel Dae Kim is an evil ninja.
Woohoo, we're finally into episodes that I remember!!
..............did Phoebe just wear a denim jacket to a job interview? Yes. Yes, she did.
Ahaha, Ben from Buffy is playing a thirteenth century prince! AMAZING.
Source. And no, I don't know what's up with Paige's hair.
Cole, that was a terrible marriage proposal.
Ahahaha, Cole wants to be a cop?? Excuse me while I die laughing.
Paige, you're an idiot. Why on earth would you cast a spell to make Glen believe you're a witch when you could just orb?!
Oh my God, The Source has some kind of reverse Brazilian on his chin.
Oh good, Cole's evil again. Just what this show needed.
Phoebe's wedding dress is HORRIBLE.
Not helped by her hair. Source.
Hey, look! The church they were meant to get married in is the one from the Faith-Buffy body swap episode!
That was some AWFUL fake crying from Brian Krause.
Phoebe's stupid tiny fringe is reeeeeeeeally awful.
Douchebag Cole is a douchebag.
Ahahahahaha, PRINCIPAL SNYDER IS A WIZARD.
Ugh, Evil Phoebe. I seem to recall that when the show first aired, this is about the point where I stopped caring.
BYE COLE.
So there you have it. I'll do my best to NOT wait the better part of three months before posting my thoughts on season 5!
IMPORTANT QUESTION: On a scale of 1-10, how unhappy were you about Prue being killed off?
K xx