Yes, it's that time of the week again - I'm linking up with
The Broke and the Bookish
for Top Ten Tuesday!
Without further ado, here are my top ten turn-offs while reading:
1. Dodgy cover art. If the cover features a half naked dude whose head had been cut off the top of the cover or people making out? NOPE. Even if it's part of a series that I love, I still won't pick it up. (New adult titles are especially guilty here)
2. Unnecessary love triangles. Sometimes they work fabulously (see: Twelfth Night), but they're increasingly prevalent in YA books in particular, and a lot of the time there's no good reason for them to exist.
I'm looking at you, Twishite. Source.
3. Stupidly short chapters. *cough* James Patterson *cough*. It makes it really hard to say "Okay, I'll read one more chapter and then turn the light out" when each chapter is two pages long.
4. Boys with crooked smiles. If I read one more YA book where you can automatically detect the future love interest the first time he appears because the narrator mentions his crooked smile, I will scream. Unless your character has had a stroke/nerve damage in one side of his face, just have him smile normally already.
5. Insta-love. Ugh, actual worst. Insta-lust is fine. But love? NOPE.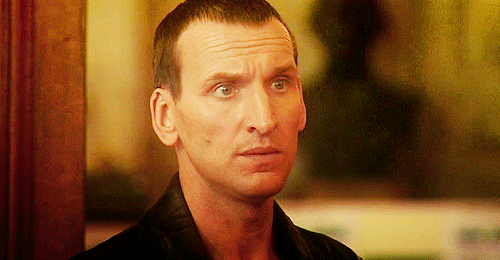 Nine has no time for your implausible plot devices. Source.
6. When a bunch of stuff is left intentionally answered so that the book can be turned into the inevitable trilogy.
7. A second person point of view. Unless it's a Choose Your Own Adventure book, it's a giant nope. (Admittedly, I've come across this more often in fan fiction than in published works. It's still a giant turnoff)
8. When the female lead is white and thin and pretty but gets all "But I'm so ugly and boring, why would this superhot guy notice me when my best friend is around?!" NO. STFU.
9. When the superhot, super popular girl in school has a dark secret - SHE LIKES COMIC BOOKS/
DOCTOR WHO
/STEREOTYPICAL NERD THING. But she has to hide it because everyone knows nerds have no friends.
10. Two dimensional, stereotypical characters. These are usually the supporting cast, and they're either cardboard cut out friends whose only purpose is for the protagonist to bounce ideas off, or they're a token gesture at diversity just so that everyone doesn't complain that the book is "too white".
So there you have it. Those are my top ten book turn-offs. What are yours? (I'm pretty sure insta-love has been on every list I've seen in the link up so far!)
K xx