Remember last year when I rewatched
Dawson's Creek
and
Had A Lot Of Feelings About It
? And then when I rewatched
The X-Files
and
Had A Lot Of Feelings About It
? Well, over the past six months or so, I've been rewatching
Alias
and Having A Lot Of Feelings About It. And the other day, I finally finished season 5. Which was interesting, because I'm pretty sure that - much like
Dawson's Creek
and
The X-Files
- I never actually saw the final season. WEIRD.
I'm gonna go ahead and warn you guys now, a lot of my thoughts boiled down to "Oh my God, this person who I know from this other show is in Alias and now my brain hurts".
Season 1
Oh my God, Will's hair. Also, source.
Bradley Cooper!! What is your hair, sir??
Huh. They're really starting the Milo Rambaldi thing early. I didn't remember that.
Gina Torres!!!!! This is made of awesome.
OMG, throwing the bad guys' bomb ONTO THEIR CAR???? Brilliant!
Is that...JOHN HANNAH??? IT IS!!!!
Security guards in England with guns? Uh, no.
Sending secret KGB codes in first edition books makes me suuuuuuuuuuuuuuuper twitchy and NO CAN'T DO THAT WHYYYYYYYYYYYYYY.
QUENTIN TARANTINO IS IN ALIAS. WTF. WHY IS QUENTIN TARANTINO IN ALIAS????
"Do you really want some space, or are you and I going to get drunk?"
There is an AWFUL lot of touching between Syd and Vaughn. If it weren't for all the secret agent business, I'd call #secretsexytimes.
Sark!! Although I swear to God when he introduced himself I thought he said "My name is Mr Sock".
Sydney Bristow: worst. spy. ever.
OMG. Professor Walsh from Buffy is investigating Sydney in regards to fringe science. LOL.
And now John Locke from Lost is in charge of a tribunal to assess Syd.
Oh, random uni friend guy. Why did you have to make Syd love you and then turn out to be a dick, all in the space of two episodes?!
Why is Bali so orange???
Ahahahaha, she's singing on top of a piano in a French bar. WTF.
SARK JUST SHOT WILL OMG WTF IS HAPPENING.
Oh. Now Will's being tortured by the crazy Chinese dude from the pilot?
Really? The ONLY security for a secret underground pharmaceuticals lab is a cheap padlock on the door??
Syd spends a lot of time bashing things with fire extinguishers...
Season 2
Syd and Vaughn just need to face nom already. Like, seriously.
I love Lena Olin. You know, at this stage.
Noooooooooooooo, Will. Don't develop feels for Syd!
Eeeeeeeeeeeeeeeeeeeeeeuw, Shirtless Sloane. *GAG*
They just used Seattle Grace as a Swiss hospital. LOL.
OMFG. Syd as a geisha is hilarious.
"Blood coagulation tests are not 100% accurate." "Yes, but they are reliable." Uh. Whut.
BAHAHAHAHAHA - this episode stars Ranjeet AND Principal Figgins. AMAZING.
Faye Dunaway is in this? Why the hell is Faye Dunaway in this?
FAKE FRANCIE WHAT THE FUCK I HAVE NO MEMORY OF THIS OMFG.
Yaaaaaaaaaaaaaaaaaaaaaaaaaaaaaaaaaaaaaaaaaaaaaaaaaaay SYD AND VAUGHN!!!
Ethan Hawke?!?!?!?!?!?!?
And now Christian Slater? What is with the guest stars in this program?!
Syd is literally the worst spy ever. She just rescued some woman, and not only told her that she was CIA, but gave said woman her full name.
Syd and Vaughn on an ice hockey date is adorable.
"I love my drawer". Quit being so damned cute, Vaughn. I can't cope.
Syd is currently wearing wrapping paper as a skirt. I can't even.
Well. This whole Will and Francie thing has gone somewhere I wasn't expecting...
Uuuuuuuuuuuuuuuuugh. I HATE when shows do a time jump.
Season 3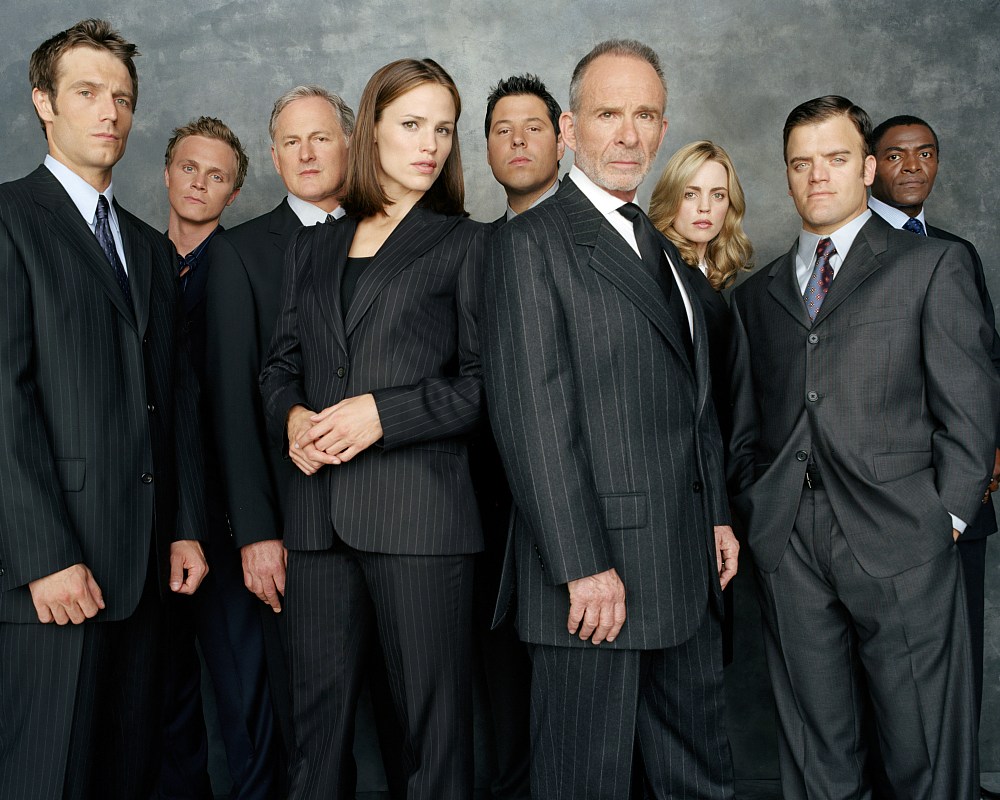 This is the most awkward group photo ever. Also, source.
OMG. Zachariah from Supernatural!!
Will's in Witness Protection? Well, that spoils all the fun!
I'm not buying this Rambaldi "peace" message thing.
LOL. Jack types in all caps.
Vaughn is married to Melissa George?! Ugh.
Ahahaha, Pete from 30 Rock is playing some kind of criminal.
Fake Francie is not dead and has hilarious hair.
OMFG, MARSHALL'S DRUMMING PROPOSAL AND VAUGHN'S REACTION TO IT. Hilarious perfection.
Urgh. A bug eaten hand in a box. GROSS.
SYDNEY BRISTOW. DO NOT HAVE DRUNK SEX WITH WILL TIPPIN. Oh dear. Too late.
THE MUMMY!!!! Man, pretty much everyone ever has guest starred in this show.
Marshall just said "Five by five". Awesome.
Lauren is an evil skank.
RICKY GERVAIS?? AS AN IRA BOMB MAKER. OMFG.
KATE BECKETT IS A STEWARDESS WHUT.
Revenge-y Vaughn is revenge-y.
Ew. Jack is macking on his wife's sister.
Season 4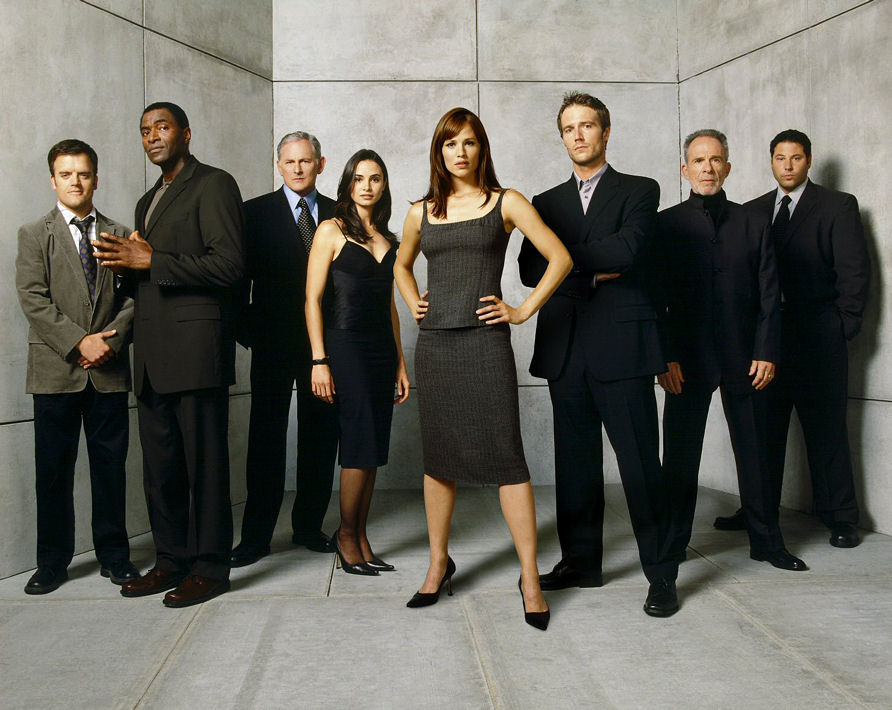 How are those matching suit tops on Syd and Nadia?? Also, source.
CHUCK FROM SUPERNATURAL OMFG
Wait, we've relocated the entire show to Washington???
I do not approve of this. At all.
Wait. And now they're back in LA again? WTF.
I can't work out whether Vaughn is trying to be Australian, English or South African. It's kind of hilarious.
GABRIEL FROM SUPERNATURAL WHAT THE HELL IS GOING ON OMFG. Aaaaand he just fell apart into chunks. WHAT.
Kelly MacDonald is in this episode what is happening oh my God I can't even.
Balthazar from Supernatural. Jesus, why not just cast Jared Padalecki and Jensen Ackles and be done with it?!
Jason Segel OMFG. With a manky one sided goatee. Ahahahaha.
Ew ew ew ew ew Marshall just had to scoop out some guy's eyeballs with a spork. NOPE.
ETHAN RAYNE FROM BUFFY. Is melting people's faces off. Whut.
Vaughn's phone records indicate that he "sent you an SM message". HAHAHAHAHA. WHUT.
JOEL GREY WHAT IS HAPPENING OMG.
When the hell did Nadia and Eric go from flirting to dating? Because I'm not sure there was ever actually a point where they started dating... There was just a lot of flirtation and then suddenly he was her boyfriend.
There is a horse wandering through the middle of the city. Whut.
Did Nadia just get eaten by zombie people?!?!?!?!?!
Oh. Not eaten by zombie people. Kidnapped by her psychotic aunt instead. And then turned INTO a zombie person. Womp womp.
If a giant wall of water is coming at you, why would you STOP RUNNING to check if the doors were going to hold?!
WHAT IN THE ACTUAL FUCK JUST HAPPENED OMFG I CAN'T EVEN.
Season 5
Really, Syd? A whole year and you haven't bought a new suit? Source
I have no idea what the hell is happening. Like, seriously.
Also, Vaughn pretending to be South African is buckets of hilar.
THEY DID NOT JUST KILL VAUGHN WHAT IN THE ACTUAL FUCK *HULK SMASH*
It pisses me off that Weiss and Syd are all "Nadia who?" about everything.
Amy Acker whuuuuut. And she's evil. Of course.
I'm not loving this season. The whole "Sloane is evil" thing AGAIN? I mean, come on.
Seriously, does every single person who joins the team move in with Syd??
I think Tom is trying to be Australian and is failing terribly. Vaughn's South African accent was better than this.
"I'm going to be a grandfather. A very YOUNG grandfather." LOL, OKAY JACK.
SARK. WHUT. Oh God. Do NOT have Rachael hook up with Sark. Oh jeez. Too late.
Ahahahahaha, Rachael's "OH SHIT" face is priceless.
Syd's not a fan of pain? Hahaha, whut.
Jack just cut off someone's ear. Ew.
Syd's parents just delivered her baby. That's kinda gross.
VAUGHN IS ALIVE WHUUUUUUUUUUUUUUUT.
WIIIIIIIIIIIIIIIIIIIIIIIIIIIIILL!!!!!!
Syd's in a tank top and mini skirt on a mission four weeks after giving birth? I call epic bullshit.
HOLY SHIT SLOANE JUST THREW NADIA THROUGH A TABLE AND KILLED HER.
Aaaaand now Renee's dead too. What the hell, episode???
Oh good. Sloane's hallucinating dead people. That's bound to end well...
They killed Tom too?? Jesus, how many people are going to die this season??
Awwwww, Francie flashback. I'm glad they found a way to include her in the final season!
Sark's irritation at being shot is hilarious.
I'm sad that they didn't bring Weiss back for the finale, but on the whole the ending could have been worse. Somehow.
And there we have it. So, questions:
1. Did you watch Alias back in the day?
2. If so, what did you think of the final season? Because I wasn't a fan.
3. Is Sydney Bristow the worst spy ever?
3b. How on earth does she ever get anything done considering she must live in a permanent state of jetlag??
Please help me to understand.
K xx