So if you follow me on Twitter (or, indeed, here), you'll know that for the past few months, I've been rewatching all six seasons of
Dawson's Creek
. Well, more accurately, I've been rewatching the first FIVE seasons of
Dawson's Creek
, and watching season 6 for the first time. Because when it aired here, they decided to show season 6 in the middle of the day, and I didn't realise it was on.
ANYWAY. I'm sure you'll all be thrilled that my tweets about it will now stop. And instead, you get this wonderful post, which should really be titled thusly:
THINGS KIRSTI THOUGHT WHILE WATCHING DAWSON'S CREEK
Warning: this is going to get incredibly long. But I don't want to split it into two, because...effort. It's also going to get spoilery. But if you haven't seen all of
Dawson's Creek
by now, I imagine you don't care that much about spoilers!
Season 1
Nobody talks like this. NOBODY.
What in the hell is Joey wearing??
Dawson, WHAT IS YOUR HAIR??
The movie that Dawson's making looks effing awful.
Eeeew, Pacey. Why are you boffing your teacher?
Okay, Dawson filming Joey's sister giving birth is just nasty.
If the phrase "boy on the brink of manhood" is used one more time, I will punch someone.
Um. Why is there no winter? It's Massachusetts and no one has worn a coat all season.
Hey Gail? Where do you even FIND business skirts that short?
OH GOD, JOEY. PLEASE STOP RUINING LES MISERABLES.
Braveheart Pacey is hilarious.
Oh, Jen. You look like you're wearing a tweed dress. Honey, no...
Dawson, I pretty much hate you.

Season 2
Nice overalls, Andie. Also, source.
YAAAAAY, JACK AND ANDIE!! [Does anyone actually understand these two? Are they twins? Did Andie skip a grade? Did Jack get held back? They're in the same year level at school...]
Why in the hell would you give up a semester in France for DAWSON??
Joey and Jack is kind of hilarious when you know what's going to happen.
How in the hell did Dawson's terrrrrible movie win ANYTHING? Let alone $2,500!!
Gross. Why are Abby and Jen flirting with fishermen in their 30s?
Pacey's dad is a total douchecanoe.
Um. Why does no one notice 16 year olds ordering rum and Cokes??
ABBY, WHAT IS THAT OUTFIT?
Awwww, Pacey and Andie... So cute, before she went batshit crazy.
Abby, your death was inadvertently hilarious.
Really, Joey's dad? You get out of jail and IMMEDIATELY start dealing drugs again?? Moron.

Season 3
What the hell was that bizarre Eve subplot that went nowhere?
Pacey, you and your boat make an adorable couple.
Wait, why is Jen suddenly a cheerleader??
Football players wearing make up = one of the few non-Pacey related things that stuck with me from this show.
Andie, why the hell would you cheat on the PSATs??
This Witch Island episode is really stupid.
I kind of adore Dougie.
PACEY AND JOEY IS PENDING!!!!! as;dkjals;kdjglkasd <-- excitement.
Henry, you're a total doofus.
Dawww, Jonathan Lipnicki!
AJ, you're a totally pointless character. Except for the fact that your existence means that Pacey and Joey finally kiss, and my fangirl heart is grateful.
Dawson's cry face is the greatest thing this show ever gave to the world.

Season 4
EVERYTHING IS PACEY AND JOEY AND NOTHING HURTS.
How is Mitch suddenly a guidance counsellor?
How did Gail not know she was pregnant?
Gretchen!!! You're awesome.
Uh, Jen? Why are you stalking your therapist??
A.I. Brooks is kind of awesome. He's a dick to Dawson, for starters.
AHAHAHAHA, a rave in CAPESIDE??? Lol forever.
Andie leaving halfway through senior year just confirms for me that I will NEVER understand the American school system.
ZOMG SUE SYLVESTER IS PACEY'S MOTHER.
Awww, Jack and Tobey are cute.
Drue, your name is stupidly spelled and you're a douche. Shoo...
Uh, worst prom EVER.
Really, Joey? You're going to let DAWSON pay for you to go to college??
How can selling a house in a small town allow you to buy a huge house in inner Boston???

Season 5
Joey, what is your mobile phone???? And why are you wearing it clipped to your pants like a pager?
Yay, AUDREY. She makes things fun again.
Hey Mitch, that was THE WORST DEATH EVER. You made Abby's death in season 2 look sane by comparison.
Urgh. Why is Joey sucking face with her lecturer????
Really, Jen? After EVERYTHING you've seen in the last four years, you're STILL willing to sleep with Dawson?
Dawson, please put your shirt back on. Because, EW.
Jack as a frat boy = NOOOOOOOOOO, WHAT ARE YOU DOING???
Oh, Chad Michael Murray. Your character is gross, but you're kind of hilarious.
Chef Pacey, I adore you.
Okay, I've taken a lot in the way of "Hey, that's X from this other show!", but seeing Abby Sciuto as Dawson's shrink takes the cake.
Does anyone remember Andie? Anyone at all? JACK???
What in the hell is this bizarre Joey gets mugged and bonds with her mugger episode? WHERE IS MY PACEY FIX???
Dawwwww, Grams has a boyfriend!!!
Oh for the love of God, just go to France already!!

Season 6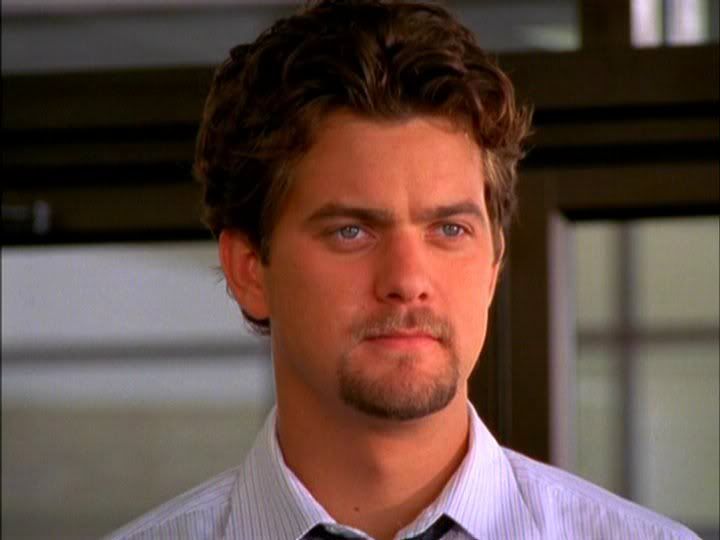 I tried to find a picture of Pacey in a suit. This was the best I could do. Also, source.
JENSEN ACKLES!!!!!!!!!!!!!!!!!!!!!!!!!!!!!!!!!!! (Albeit with stupid hair, and basically being the anti-Dean Winchester)
Ew, Dawson and Joey are boffing. Oh good. It only lasted half an episode. Thank God for that.
Yaaaay, Pacey in a suit!! Boooooo, Pacey with a stupid goatee.
Aww, Eddie is nice. Wait, now he's a douche. Wait, now he's nice. Wait, now he's a douche again.
Pacey and Jack's roommate is awesome.
I kind of love Todd Carr.
"Are you on your period right now, Dawson?" Ahahahaha, YES. ALWAYS.
"What's with all the underage alcoholics around here??" <-- EXCELLENT question, Pacey.
There's a woman in Audrey's rehab centre called Toni Stark. AHAHAHAHAHAHA.
This Pacey and Joey get trapped in a Kmart episode is my new favourite thing of ever.
Um. Why is the newspaper reporter that Pacey's suddenly boffing so very orange? She looks like she escaped from the Jersey Shore, ten years ahead of schedule.
OMG WHY IS DAWSON SUCH A COMPLETE DOUCHEBAG???
Mopey Pacey is lying on the sofa in his underwear with chips stuck to his face. He's still adorable.
Does anyone remember Lily??? (Also, Lily Leery is a TERRIBLE name)
Um. Why is Joey suddenly in Paris? CONFUSED.
Oh for crying out loud. Dawson is a total one trick pony. First he made a movie based on the story of him and Joey in high school. Then he made a movie based on the story of him and Joey after he dropped out of college. And now he's making a TV series ABOUT HIM AND JOEY. No wonder you have no life, Dawson.
JACK AND DOUGIE!!!!!!!!!!!!!!!!!!!!!!!!
"And the triangle just became a square" "Well put!" <-- SNORT.
I struggle to see how killing off Jen seemed like a good way to end the series.
Oh hey, they finally remembered Andie. And for the first time in the entire series, she looks the right age.
asdkfj;aksldghashdga;hd PACEY AND JOEY!!!!!!!!!!!!!!!!!!!!!!!!!!!!!!!!!! My fangirl heart just exploded a little.
And so we come to the moral of this (very long winded) story: I still think Dawson's a pain in the arse. I still think this show is both terrible and fabulous at the same time. I still want to know how the screenwriters thought anyone actually talked like that. And I am eternally on Team Pacey.
So. What are your thoughts? Did you love it? Hate it? Are you Team Pacey as well? (Is anyone NOT Team Pacey??? He's 90% of why I started watching Fringe!) And did you want to punch Dawson in the face a lot, or was that just me??
K xx